Having an indoor bamboo plant has become incredibly popular over the last few years. They are actually exceptionally stylish as vegetation for a home office setup or around the house!
As a type of evergreen plant, they provide eye-catching, abundant vegetation that can instantly give an exotic and lively feel to any space.
Not to mention it is also widely considered to have an auspicious meaning. It is an evergreen grass that is lovely as an indoor plant and readily accessible throughout the year.
We'll show you how to look after your plant, delve into the meaning, its origin and more!
Jump to:
Origin
The plant is native to China. The earliest record of the plant's uses comes from this country. In ancient China, the plant was used to make books, food like braised bamboo shoots, housing and even weapons.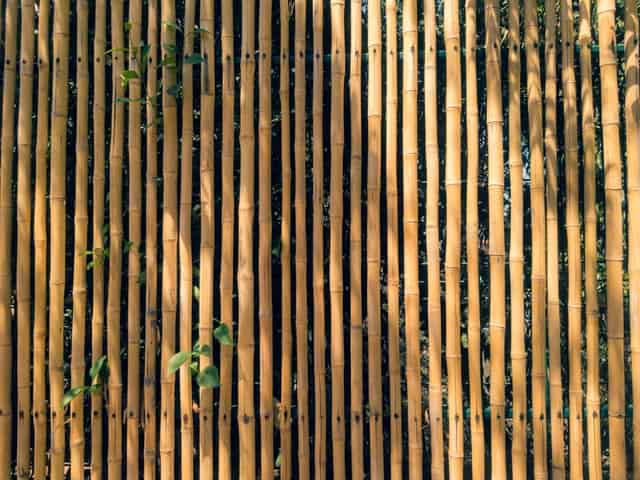 Nowadays, this evergreen grass can be found in most parts of the continent. This is thanks to the variety of bamboo plants available. 
Health Benefits
Bamboo eliminates benzene, trichloroethylene and also formaldehyde. Likewise, it adds moisture to the atmosphere and works as a natural humidifier for the space it is in.
Types
There are many different types of bamboo plants but they are generally split into two categories. These are running and clumping. 
Clumping
Clumping bamboo grows in a large amount of grass and stays where it has been planted. It does not spread by itself and is a good choice for people who want a well-planned garden.
These come in the straight and curly form are usually the type used for indoor bamboo plants. 
Running
Running bamboo is the other category. As the name suggests, this type of bamboo plant is invasive and will spread easily if not carefully looked over. It grows through extending rhizomes in the soil.
These underground runners can move more than 30 meters before sprouting.
We don't recommend planting this unless you have a containing system to maintain its position. This could be done using metal sheeting or a root barrier.
Otherwise, you'll get into a lot of trouble when the neighbours complain about their new bamboo plants that just popped up!
Common Bamboo Varieties
Within the two categories, bamboo plants are also divided into warm and cold climates the variety can survive in.
There are commonly two types of cold climate clumping bamboo plants. These are Chinese Mountain and Umbrella bamboo.
The warmer your climate, the more options you have for different types of bamboo. Some warm-climate types of clumping bamboo varieties include Chinese Goddess, Hedge bamboo, Fernleaf and Silverstripe.
Best Indoor Bamboo Plant Types
Here are some of the best indoor bamboo plants to suit your space!
Lucky Bamboo
Kentia Palm
Areca Palm
Chamaedorea Elegans
Rhapis excelsa
Sale
Bestseller No. 1
Costa Farms Lucky Bamboo Plant, Easy to Grow Live Indoor Houseplant in Ceramic Planter Pot, Potting Mix, Grower's Choice, Perfect for Home Tabletop, Office Desk, Shelf, Zen Room Decor, 12-Inches Tall
LIVE INDOOR PLANT: Bring home a beautiful grower's choice Lucky Bamboo for a zen look. These houseplants add a sense of calm to any space, improving room aesthetic and bringing a focal point to any feng shui, living room, office, or bedroom decor
GORGEOUS HOME DECOR: Lucky Bamboo plants are an elegant way to infuse your home with peace and tranquility. It is in a stylish plant pot, ready to be enjoyed and admired instantly after unboxing. Easy to grow bamboo plant sits gracefully on table tops
UNIQUE GIFT IDEA: Plants are a great way to celebrate any occasion, including birthdays, anniversary, and housewarming. Enjoy peace of mind that every plant is well packaged, farm fresh, and ready to impress with your gift message
ELEVATE MOOD & WELLBEING: Plants make us happy. They give us life, fresh air and a sense of calm - all of which have the ability to lift your mood and improve your wellbeing. NASA studies show having plants improves mood, creativity and reduces stress
HAPPY & HEALTHY PLANT: Your new live indoor plant arrives well-packed with care instructions. Keep your Lucky Bamboo happy, healthy, and growing either in natural or artificial light; Keep the soil moist.
Bestseller No. 2
Arcadia Garden Products LV25 5-Stem Lucky Bamboo, Live Indoor Plant in Aged Wood Planter for Home, Work, or Gift, Dark ***Cannot Ship to Hawaii**
LOW MAINTENANCE: The roots are growing in water, not soil, so simple care requirements are about light and water
INVITE GOOD FORTUNE: Whether enjoying at a desk, coffee table, home spa or meditation space, the invite is open for positive energy and good fortune
GREAT GIFT: Say Thank You to employees, customers, or co-workers by gifting this easy-care indoor plant.
CAREFULLY WRAPPED: With extra attention paid to careful wrapping, this Lucky Bamboo is packaged for a safe journey
GROWN BY EXPERTS: Experienced greenhouse growers oversee every step of production for this Lucky Bamboo
Bestseller No. 3
Indoor Bamboo Plant Care
Bamboo generally requires minimal upkeeping and is a sturdy plant. It rarely has challenges with pests or disorders, and it usually doesn't need pruning.
You could get rid of old canes at their foundation if they begin to look unhealthy.
In addition, you also can get rid of new shoots as they pop up from the soil if you'd like to restrict your indoor bamboo plant's expansion.
Typical watering and feeding can make up the bulk of the plant's routine maintenance. To take care of the soil moisture that bamboo likes, you might have to water your plant more than once per week.
But specifically for an indoor plant where the local weather doesn't adjust dramatically, try to be in a position to establish a predictable treatment for your plant.
Sunlight
Bamboo prefers a spot that will get a whole lot of sunshine compared to partial shade. An excessive amount of shade may end up in a weak plant that does not mature to its fullest.
This will result in the plant having fainter colours and less vibrant. Keep your indoor bamboo plant by the brightest window in the room.
Regularly rotate the pot every 7 days or so to be sure all sides of the plant gets an equal amount of sunlight.
Soil
Indoor bamboo plants can tolerate a variety of soil types. However, it prefers organically rich soil with great drainage capabilities.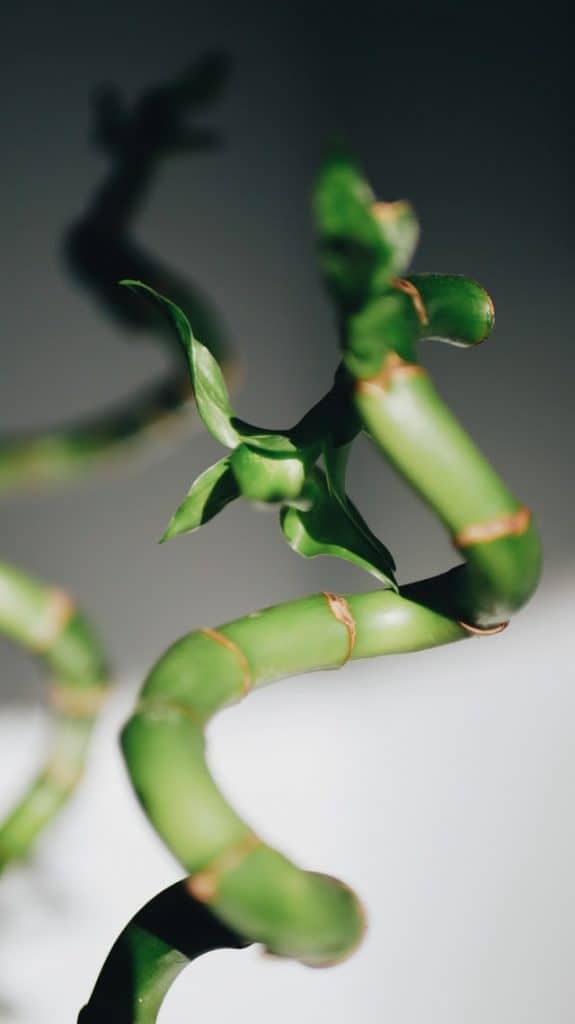 Watering
Bamboo can tolerate drought and can also handle very wet soil for a short time. However, if it is left sitting in a pool of soggy soil or drinking water, this can rot the roots. In this case, this is beyond salvaging and you will need to get rid of the plant. The plant prefers evenly moist soil.
Check the soil by sticking your finger an inch or two in it and watering it every time it feels dry. Never let the soil dry out completely. However, during the winter season, reduce to watering of your indoor bamboo plant.
Temperature and Humidity
Indoor bamboo plants are noted for their inability to deal with cold temperatures for a long time. Cold weather conditions may cause the plant to drop foliage and could ultimately mean getting rid of the whole plant. The bamboo plant will thrive in standard indoor temperatures between 60 - 80 Fahrenheit.
Keep it away from chilly drafts, direct flow of an air conditioner, along drying heat vents. Bamboo requires reasonably humid air but can tolerate some indoor dryness as long as they are well watered.
Fertilizer
To take care of your indoor bamboo plant at an exceptional level, use a fertilizer regularly. Feed your bamboo using a well balanced liquid fertilizer with nutrients once every month. It can also be helpful to combine some natural compost with the soil. This is especially useful in the spring season, during its growth season.
Bestseller No. 1
Potting and Repotting Bamboo
When starting off with a small bamboo plant, choose a container or pot that may be at the very least 12 inches deep. Choose a pot made out of a heavy material to anchor the burden of the bamboo canes. You can also add some rocks or gravel to the bottom if you feel the container isn't durable to anchor the plant's heavy weight. Also, be sure the container has sufficient drainage holes.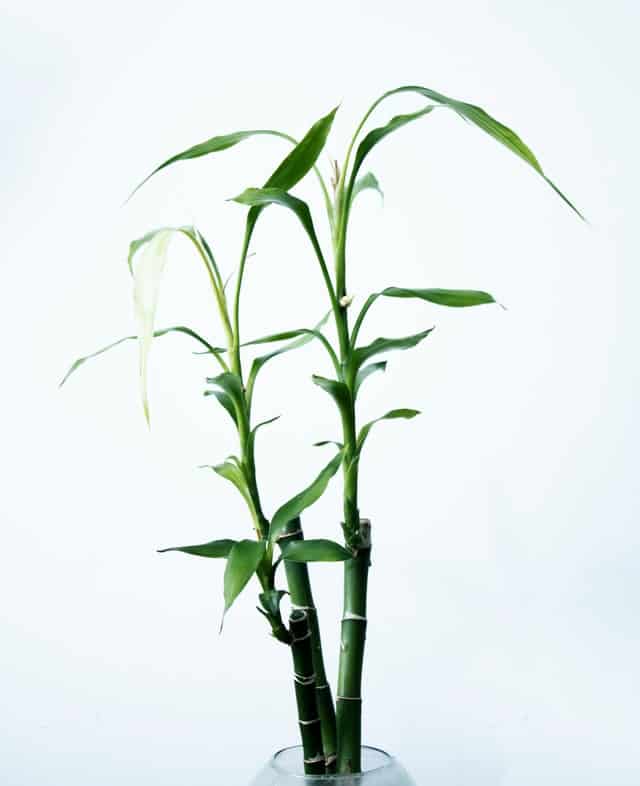 Place the root of the canes inside the pot, and fill in all-around it with a loose, nutrient-rich potting blend. If you want, mix in some compost at this time to motivate growth. Then, water your evergreen plant frequently.
You will very likely have to transfer your bamboo to a bigger pot every year or two as soon as the roots have unfold throughout the entire pot. You will notice this through the roots popping out the holes on the sides or poking out the soil.
Changing pots for an indoor bamboo plant will keep the plant healthy and growing stronger.
Meaning
In Feng Shui, it is believed that having bamboo in your house will bring luck. Having straight bamboo is supposed to boost your luck while curly bamboo will change your luck.