Demon Slayer bedroom ideas are something that every hardcore anime fan has considered at least once in a while. After all, the Kimetsu no Yaiba (鬼滅の刃) anime is the latest craze globally that is brewing up quite a storm. 
Every fan wants to keep a replica of their favourite anime in their rooms. Naturally, doing this will automatically create a happy place for true fans. Specifically, a place that gives off aesthetic anime bedroom vibes. But they may often wonder how to make an appropriate demon slayer bedroom that won't feel too cramped.
Here is where we come to their rescue! We have carefully picked ideas that are bound to remove any worry regarding this matter.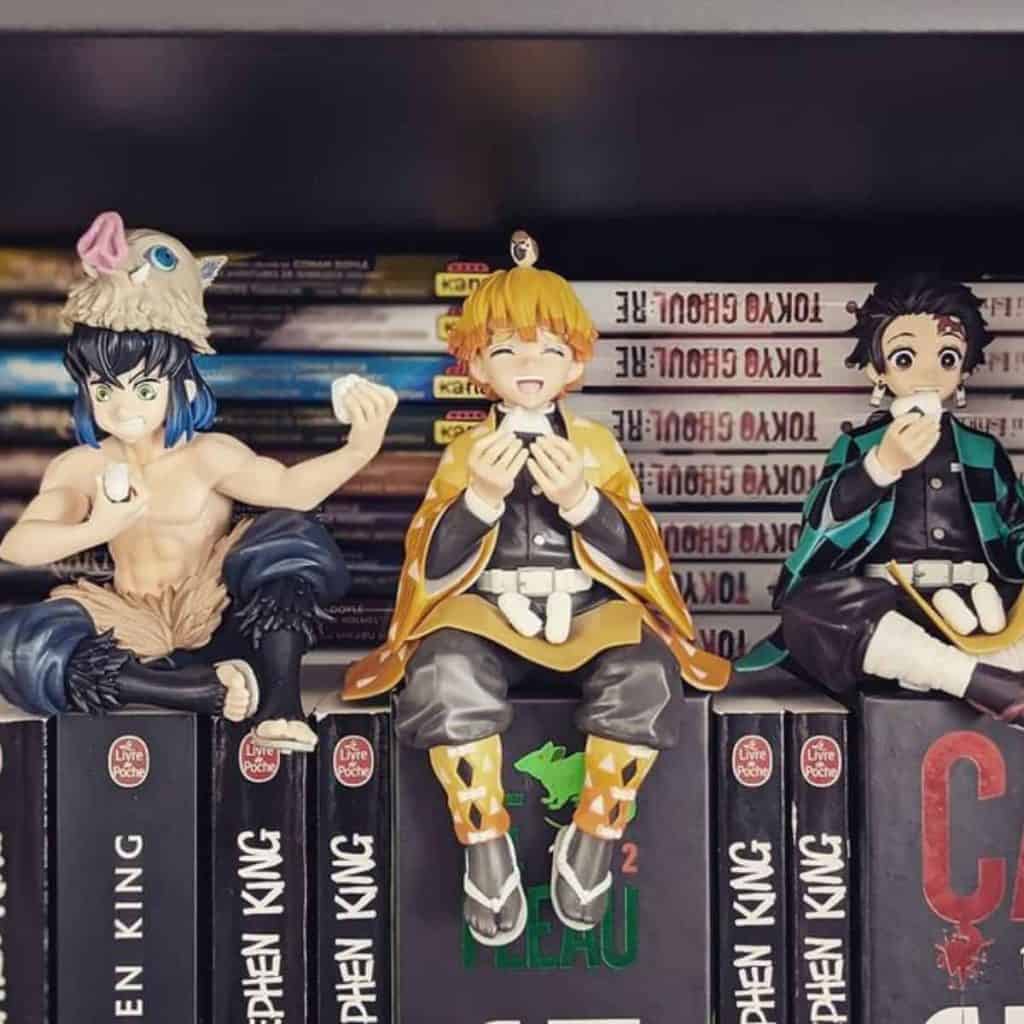 Jump to:
Demon Slayer room design
An essential part of your Demon Slayer bedroom is the design of your room itself. First and foremost, you need to come up with a theme that will be the main attraction of your bedroom. You can base it on any character from the anime with popular ones like Tanjiro and Zenitsu. 
And if you want to show off your wild side, you can most certainly add Inosuke to the mix.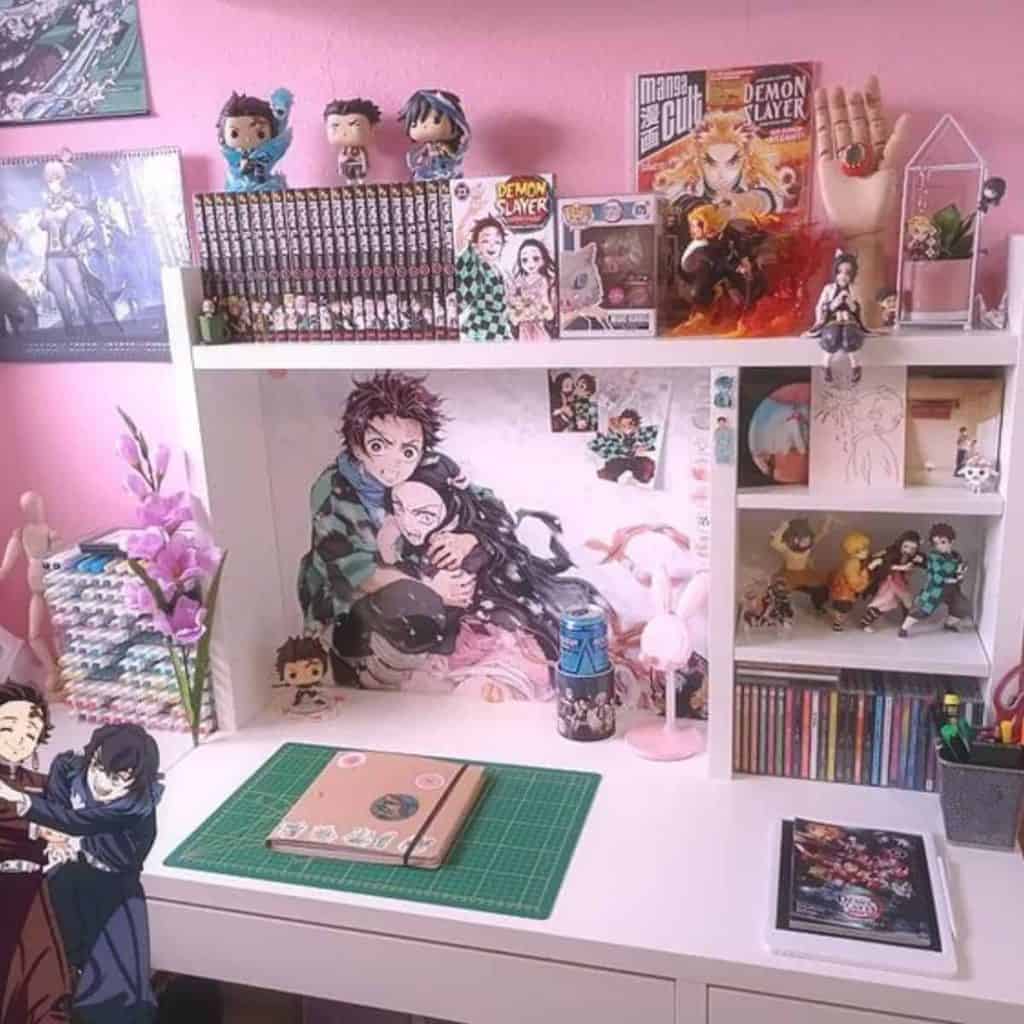 After selecting the character or theme, you need to focus on the colours. For example, let's say you have selected Tanjiro as the theme for your room. If so, you should certainly focus more on green and black. Green should be your primary colour, with the secondary focus on black. 
You can also add other items while considering the colour code associated with your character. Similarly, if you select Zenitsu as your main theme for the Demon Slayer bedroom, the colour scheme will comprise yellow and orange. As a result, it will certainly give a more bright texture to the interiors and work wonders for your overall mood. Like Zenitsu, you can also focus on a single task more efficiently.
Demon Slayer Mask
A Demon Slayer mask should bring fond memories for all the Kimetsu no Yaiba fans out there. After all, when the series first began, we saw some of the important characters using masks to cover their faces. 
A Demon Slayer mask is a unique idea because very few people will think about it. 
It doesn't take up a lot of space. In addition, it can be a quirky way to light up your Demon Slayer bedroom. 
Demon Slayers Fox Mask LED Halloween Mask Japanese Anime Cosplay (3 Pcs)
Material: Made of high-quality wear-resistant ABS, non-toxic, odorless, non-deformation, colorful, strong, durable and easy to carry.
The belt can be fixed on the back of the head, easy to put on and take off, suitable for both men and women. You will be the focus of the party
Inspired by Japanese anime, it is your best choice for role-playing, costume, daily life, comedy performance
Exquisite design: Our role-playing headgears can truly restore anime characters and add fun to your party. These headgears are the best gifts and collections for anime fans
Occasion: Suitable for fancy dress party, carnival, Christmas, Easter, Halloween, stage performance, craft decoration, carnival, prom, school festival, secondary entertainment, role-playing and many other activities and occasions. The headgear can be worn or it can be a Halloween decoration
If you think of your room as a story, then the Kimetsu no Yaiba mask is the very twist at the end that completely blows the mind of people. The best way to decorate your Demon Slayer bedroom with a mask is by hanging it on a wall. 
It can give off a pretty vibe at night. At the same time, the mask will set up the perfect mood for a party or any other occasion. So, our recommendation for this idea is to use a LED Mask that will glow at night. You can, of course, choose any form of Demon Slayer mask according to the character chosen for your room.
Demon Slayer Poster
Posters are one of the most basic Demon Slayer bedroom ideas. However, they are highly popular forms of anime merchandise that usually depict a famous scene from a respective anime.
Kimetsu no Yaiba has made its name for its visually appealing animations. So, you can bet that there are a lot of colourful Demon Slayer posters that are just waiting to get up on your wall! 
A poster can also represent a particular anime character. So, in the case of Kimetsu no Yaiba posters, you are likely to find a lot of them with the main trio. Hence, having a Demon Slayer poster helps complement the character you have already chosen as the theme of your bedroom. 
GTOTd Anime Poster Wall Posters 8-Pack(with Anime Stickers 50pcs) 11.5" x 16.5", Unframed Version HD Printing Poster for Room Club Wall Art Decor.
【Dimensions】-A3 Size -16.5 x 11.5 inches (42 x 29 cm),8 pcs different images per pack.with stickers 50pcs.(Size of the stickers: 2.0-3.3 inch 50 pcs no-duplicate stickers)
【Material】-High quality embossing professional poster paper,HD print and durable.
【Surprise Gift】-It's perfect for fans collection & Gift,Great for Home, Office,birthday, holidays, kids bedroom, home & office decoration, Thanksgiving, Christmas, Children day, party favors, office wall decorations.
【Way of decoration】This posters can be pasted on wall with tape, pinned on a cork board, or decorated with photo frames. No matter which way of decorating, it can give you a comfortable visual experience.
【100% Satisfaction Guarantee】-We providing 100% satisfactory service to customers. If package lost or damaged on the way- 100% Refund or Resend.
If you have chosen Tanjiro, then it is a no-brainer that you will get a poster showcasing him in one of his Water Breathing techniques. 
The best part of the Demon Slayer posters is that you will get a lot of options to choose from. There is bound to be one that will perfectly fit your room. After that, simply stick it up on your wall and make sure that it matches the other elements you are planning to use in your Demon Slayer bedroom.
Plushies
Plushies are undoubtedly the most adorable idea you can think of for your Demon Slayer bedroom. They are cute soft toys that can brighten up any corner of your room. Plushies are available in various sizes and can help compliment the theme of your Demon Slayer bedroom even more. 
No products found.
If you already have a favourite character in mind, you just need to select a plushie for that. Then, half of your job is done!
Our choice for this is an Inosuke plushie to add that bit of flair to the room. Tanjiro and Zenitsu will naturally be the common choices here, but you can stray slightly differently and stand out with this Inosuke plushie. 
LINKOM Plush Dolls Tanjiro Nezuko Zenitsu Sitting Cute Toys Cushion Pillows Gift Collection for Kids Fans (20cm/7.87inch, Hashibira Inosuke)
☃Super Soft Material: This cute sitting Plush Doll Toy is made of eco-friendly safe PP cotton, fine sewing, soft and comfortable.
☃Cute Design: The Stuffed Plush Figure is inspired by anime . With realistic and lovely appearance gives you vivid 3D visual effect. Collectible for anime lovers.
☃Size: 20cm/7.87inch. Just right size, not too big and not too small. Colorful stuffed cushion dolls, not easy to deform.
☃Best Gift: This kawaii plush toy is best gift for kids, friends, lovers, girls, family and anime fans on Children's Day, Birthday, Valentine's Day, Christmas, New Year, Halloween etc.
☃Occasions: Also perfect for cosplay, role playing. Great decoration for home, car, office, bedroom, living room, bed , sofa, bookstore, bars.
No products found.
Moreover, the best part of having a plushie is cuddling it whenever you want. How often have you thought that the characters of Kimetsu no Yaiba are very cute and you would just die from their cuteness? In this, you can have them right by your side for your every need. They can be placed very easily on your desk or even on a solitary tabletop.
Demon Slayer bed set
Planning a Demon Slayer bedroom without a bed set in mind is like Tanjiro without Nezuko. Both are incomplete without each other. 
A Kimetsu no Yaiba bed set comprises anything that goes on a bed ranging from blankets to pillow covers. In addition, you can get a little creative and add something different from the original theme of your Demon Slayer bedroom. 
Anime Kimetsu No Yaiba Bedding Set Duvet Cover Set 3 Pieces Bed Set for Boys Girls Quilt Comfoter Cover 86 X 70 in Bed Sheet Set
This Product Includes 1 Pc Duvet Cover, 2 Pcs Pillow Cases, Full Size (177x218cm, 86x70in)
Product Style: This Product Adopts Modern Fashion Printing Design And Cute Patterns To Make Your Bedroom Brighter And More Lovely, And Make Your Home More Warm
High Quality Material :Made Of 100% Microfiber Fabric!Helps You Get A Better Night'S Sleep And Get Up Feeling Refreshed! Microfiber Has Desirable Properties Such As Super Soft,Breathing Ability, Wrinkle And Fade Resistance,Easy Cleaning
Easy Care:Machine Wash In Cold Water,Tumble Dry At Low Heat,Do Not Bleach,Hypoallergenic.
Suitable:This Duvet Cover Set Is A Great Gift Idea For Adult Or The Kids Like Men, Women, Mothers, Fathers,Children And Students For All Ages And For Holidays, Christmas, Mother'S, Father'S, Valentine'S Day, Birthdays And So On
For example, let's say you went with Tanjiro Kamado as the main character around which you will design everything. So, you can easily use Nezuko as the theme of your bed set and portray their brother-sister relationship. A Nezuko themed blanket along with some cute cushions should be a top priority for you. Just think about returning to your room after a hard day and instantly seeing this cute girl in your room. 
Your mood is bound to get uplifted after that. The materials of these products are also very soft to give you a good night's sleep. You can even showcase the Nezuko themed cushions on your sofa to display for your peers. Then again, you can decide to stick to the main theme after all and give a solid Demon Slayer look to your bedroom.
Longhui Anime Unisex Throw Blanket Flannel Blankets for Bedding Couch Sofa Living Room Throws All Season 50 X40 50x40
✔It has super soft and high quality fabrics on the outside and white inside.Keep you warm when you cold.It can be used as bed sheet,Trip blanket,Daily nap quilt,Even sofa cushion.
✔Blanket offer 3 sizes,Keep you warm in all seasons and all ages.Also,You can easily fold it up and take out:Picnic,Beach,Travel,Changing pad,RV blanket,Etc.
✔Perfect gift- exquisite gift packing.This throw blanket is a great choice for your family,Friends birthday, Housewarming,Valentine's day,Christmas.It can be used when watching tv,Reading on a couch,Lounging on sofa/bed, Sporting events or camping.
✔Hand or machine wash gently in cold water,Hang dry,No iron,No bleach.
✔The fabulous colors revive your blanket with an elegant facade to update home décor with year-round sleep comfort.Lightweight,Durable and compact.Super soft and feels great.Easy to carry and wash.
Demon Slayer Nightlight
The vibes and aesthetics of a Demon Slayer nightlight are completely unmatched. So, they should be at the top of your priority list when making your Demon Slayer bedroom from scratch.
They are usually made of plastic and represent the outline of a character from Kimetsu no Yaiba. The nightlights are available in a wide range of colours, and you can choose them according to your wish. 
For example, although Zenitsu has his trademark yellowish colour, you can opt for something different in this case. Like the posters, a nightlight of a specific character will complement your Demon Slayer bedroom well.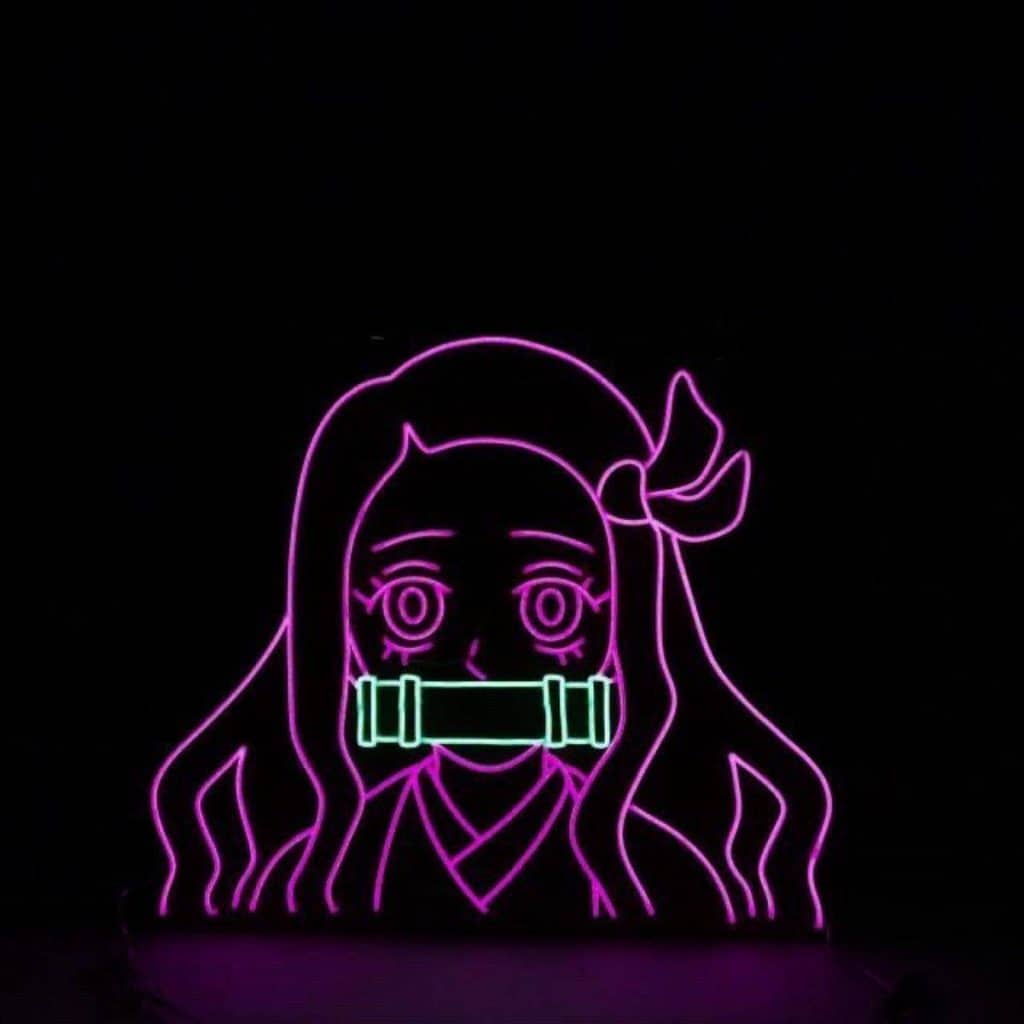 They will look good during the daytime, but you will find them most appealing at night. With their bright and shining colours in your room, you can just about throw a party at short notice without worrying too much about the atmosphere. 
The Demon Slayers nightlights usually vary from short to medium sizes, allowing you to place them on a cupboard, desk, or centre table. They are also sturdy enough and won't break so easily.
No products found.
Demon Slayer Figurine
A Demon Slayer figurine is every collector's valuable dream. Figurines are so versatile that they can be used for almost any purpose. Unlike the nightlights, they are the exact replica of a character and can help you make your ideal Demon Slayer bedroom. 
You can buy various designs of a specific character and place them throughout the room to fit its theme. However, make sure to keep appropriate space between them so that it doesn't appear too cramped.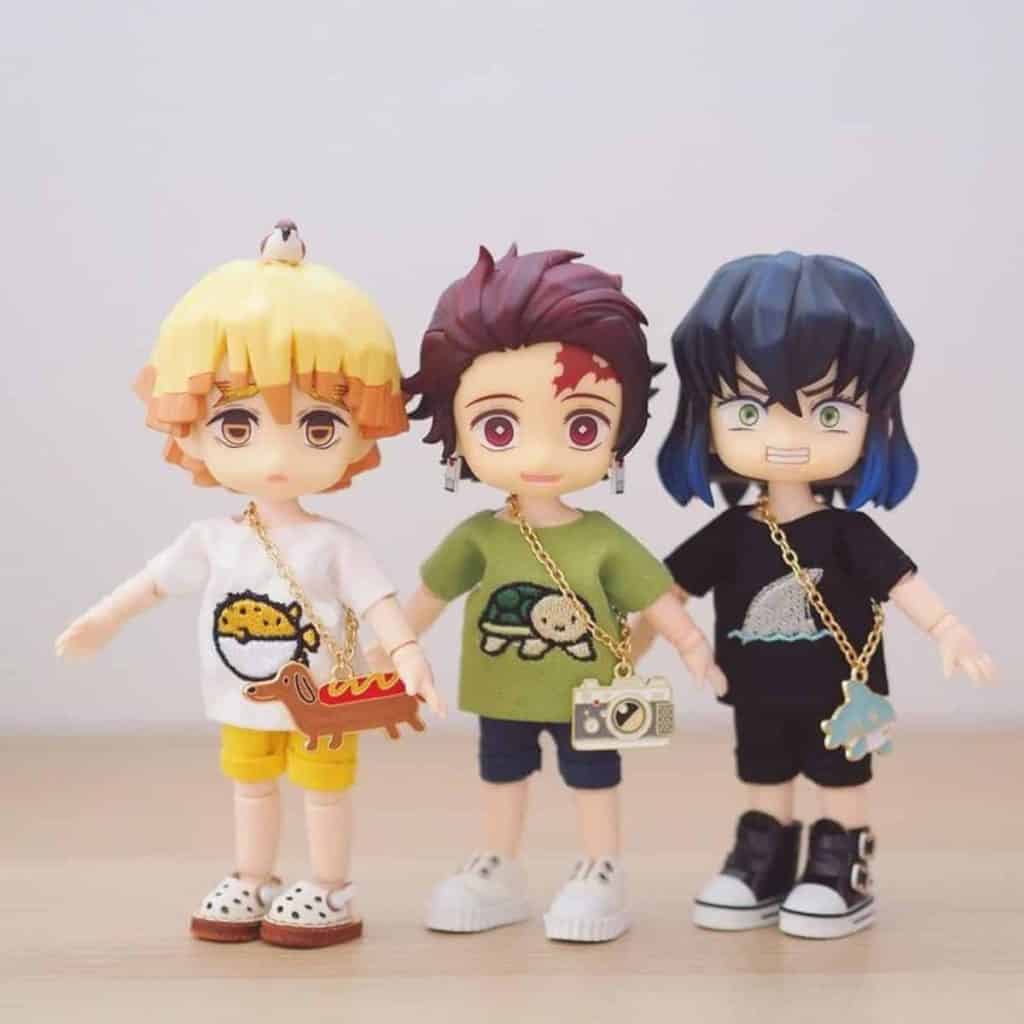 Alternatively, you can always buy the whole gang and establish your love for this gem of an anime. Just think how awesome it will look when you have each member of the Hashira spread out in your room as if they are guarding you against all dangers. 
Our suggestion is, of course, the golden trio of Tanjiro, Zenitsu and Inosuke, along with Tanjiro's adorable sister, Nezuko. 
Sale
No products found.
Sale
On to your next mission!
So, without wasting any more time, get to work to create the perfect Demon Slayer bedroom and share this article with fellow Kimetsu no Yaiba fans!
---
Perhaps you're looking for a different kind of aesthetic for your room? Check out our guide on how to create a Sailor moon themed room, or how to spruce your bedroom with Naruto bedroom decor.