A farmhouse bathroom decor conjures images of exposed brick walls and the smell of hay while you sit on your potty throne. But that's far from it. Instead, there are different ways to get the aesthetic. We've combed the web for the most creative interior design ideas you can incorporate. But first, let's understand what this style is all about.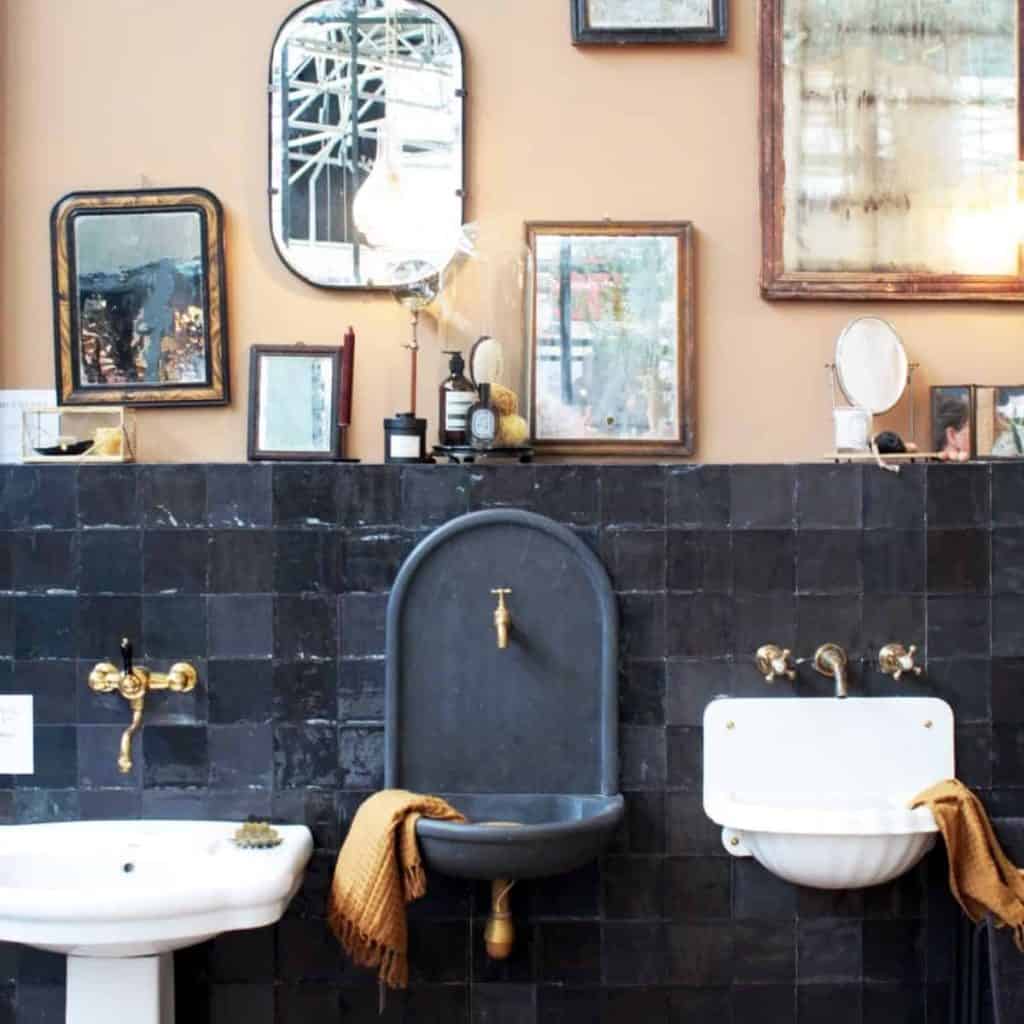 Jump to:
Style Types
Modern Farmhouse Bathroom
Modern farmhouse bathroom decor is all about natural textures and neutral colours. You will often see exposed tiles contrasted with wood or galvanised steel. Inviting yet pared down - that's the impression you want. 
Rustic Farmhouse Bathroom
You will recognise this aesthetic when you see reclaimed wood, natural fibre, and distressed finishes. In addition, rustic farmhouse bathroom decor usually has accessories like wooden shelves, cosy towels, and candles of various sizes.
Vintage Farmhouse Bathroom
This look is all about vintage farmhouse bathroom accessories. The items are often antique or repurposed. Think simplistic clawfoot tubs and upcycled dressers for vanities. You will also see vintage jars, hooks for towels, and a dramatic chandelier in a Pinterest search. 
Minimalist Modern
This video shows a minimalist modern farmhouse bathroom decor. The colour palette of the floor and wall tiles is a soothing cream shade. Wooden shelving lined neatly with accessories keeps everything organised. 
Using a basket to keep toilet rolls is a great way to use the narrow space between the toilet and the cabinet. Wooden towel pegs are hidden beneath the shelves to keep towels organised. 
The creator of this video has also spray painted the exterior of the lights a midnight black. This colour selection is an excellent contrast to the white in the room. 
The paint used in this video is a relaxing colour. You can try a similar colour as in the video, SeaShell Grey by Valspar. Black cabinet door handles from Lowes acts as a complementary contrast for this theme. 
Cheery Rustic
The main focal point in this rustic farmhouse bathroom decor? It is the ladder created from unvarnished wood, placed atop the toilet to hide power outlets. 
You can hang washcloths on the ladder, which doubles up as a storage space. This ladder is a low budget way of creating more space! We also like the small decorations, such as a caddy with rustic gold trimmings and hooks, enhancing the aesthetic. 
Take notes from this video if you do not want a major overhaul. The small details, such as the rustic bathroom hooks and a wire basket, are what you need to get this look. 
To make the D.I.Y. stepladder, you can look for planks from D.I.Y. shops. It takes a bit of time and effort to hammer the planks together, but the overall charm is worth it. 
Contemporary Modern
In this video, the primary colours are black and white. Keeping the colour scheme consistent helps achieve this contemporary modern farmhouse bathroom decor. Contemporary styles are representative of current-day interior design trends. So think inspirational signboards or cheeky accessories, which are in vogue now. 
In this video, we see the creator incorporating D.I.Y. accessories to lighten the mood of the ensuite. One adorable D.I.Y. is the boy and girl sign that the creator has made herself. Another D.I.Y. is the wooden shelves with holders attached to them. These fun details break up the monotony of the interior and show off your personality. 
Even as you have fun with the accessories, you should keep the overall colour scheme consistent for your farmhouse bathroom decor. One way is to buy matching black shower rods and curtain rings.
Elegant Modern
There are minimal renovations in this farmhouse bathroom decor. Instead, the creator has cleverly used accessories with sophisticated details to spruce up the place. For example, the hand towels with textured surfaces and fancy fringes look like those used in luxury hotels. 
Coordinating other accessories to keep things classy is another great idea you can use. For example, the video creator has included a striped shower curtain with tassels and a fluffy cream-coloured rug. 
You can make the place look inviting with accessories. We like the rattan basket on the vanity with matching accessories such as a battery-operated candle. A white tiered tray also keeps everything organised on the vanity table. 
Take inspiration from this video to add reed diffusers. Reed diffusers make the place smell wonderful and add a zen touch. Another good takeaway is that thicker textures in bold colours are essential for an updated minimalist look. 
Timeless Vintage
The house in this video has existed before the 1950s. That's why the owners redesigned a vintage farmhouse bathroom decor keeping its history in mind. 
The curved lines of the ornate sink (made in 1906!) and the original tap is so beautiful. The owners have also chosen a toilet with the same curved design for its water tank. A grand chandelier completes the look. 
To recreate this elegant look, add black and white penny tiles. The stacked, horizontal neatness of penny tiles is timeless.
While you may not get so lucky and find an old-fashioned sink like the video creator, another tip is you can still look for other items with curved lines to recreate this look. 
Curved lines and industrial-looking features dominated interior design trends during the post-war era. So you won't go wrong if you look for elements with curvy lines to add to your interior. Adding items found in antique fairs such as ornamental plant pots and incense jars completes the entire vintage look! 
Summary
In general, farmhouse bathroom decor is all about keeping things cosy. If you're on a budget, simply choosing luxurious towels or adding a soft rug will work. Other small details like wire baskets and plants add a nice personal touch. 
If you like more interior design inspiration for your house, check out our Anime-inspired bedroom design ideas article as well as our guide on garden tubs for your home!