What is a garden tub? These types of tubs are widely popular for relaxing spa-like bathing experiences in modern homes. It is simply an aesthetic sculpture at home that can increase the value of a home. 
If you are thinking of adding a luxurious addition to your home, apartment, or hotel, then a bath tank is a must-thing. It mostly depends on the structure of the bathroom as you need an individual space for a shower. 
Interior design trends come and go occasionally, but the garden tub remained a constant fixture to a bathroom design. This individual bath tank can make the room into a more relaxing environment, which makes it popular. 
Whether you are renovating a brand new space or your existing bathroom, below are some considerations you need to think about while buying. 
Jump to:
What Is A Garden Tub?
Nowadays, in modern interior design, a garden tub mostly refers to deep soaking, freestanding tubs, and heavy enough to dive the whole body inside. Because of its increasing popularity, this bathtub style is a more comfortable solution to the industry's more regular bathtub option.
So, what is a garden style tub? It is something that is a luxurious addition to your bathroom that has individual bath tanks and showers. 
With the improved space solution, you do not need to worry about the legs and arms exposed during bathing. It is also mixed with excellent heat retention of specific substances, creating an extended and pleasurable soak.
Modern garden tubs range from the smooth minimalist oval garden tub, granite bathtub, bateau style, marble bathtub, mobile garden tub, etc. Moreover, you can get garden tubs in different shapes like round, rectangular, or asymmetrical. 
Although the question "what is a garden tub?" can be answered easily, it becomes complex in the modern setting. You can find different modern materials that vary in price, shape, appearance, and heat retaining properties.  
History
Back in the early 1700s, the question of what is a garden tub can be answered by observing the lives of the French elite and aristocracy. The wealthy aristocrats got big houses and plenty of land, which is why they actually placed large and luxurious bathtubs. 
It is placed in the garden so that the user can admire their landscape scenery while enjoying a bath. That is why it is named a garden tub. The drained water from the tanks routed back into the gardens to give water to the plants.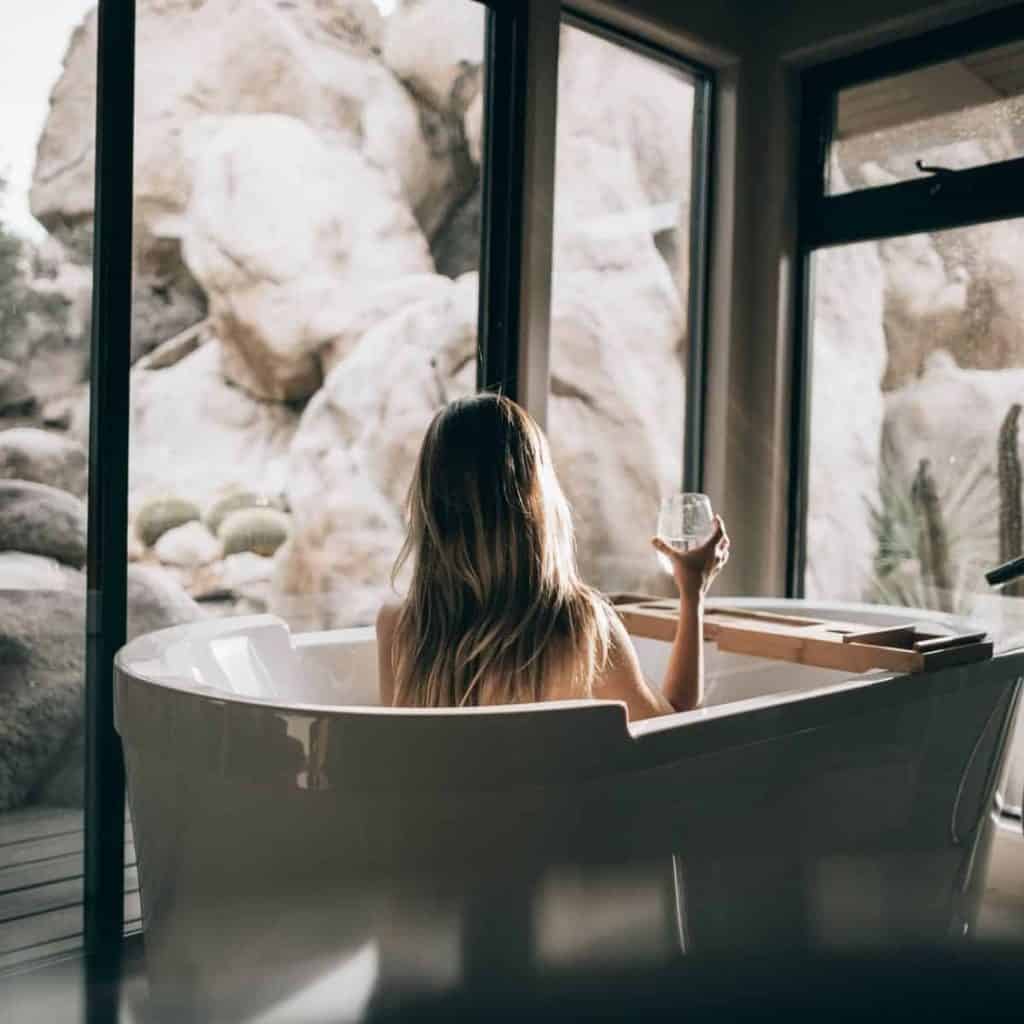 Garden tubs first gained popularity in 18th century Europe where they took the idea and made an indoor bathtub with a garden view. After a few years, a large shower area with a hot bathroom trend had arrived, and garden tubs were slowly taking over. People want to have space for a soaker tank or corner garden tub in modern bathrooms. 
We have now understood what is a garden tub. But about its advantages and disadvantages?
What Are Its Pros and Cons?
Pros
Its deep space and large capacity allow people of various sizes. 
You can easily put your full body in it for a relaxing and spa-like soak. 
Because it is separate from the shower, they need less cleaning. 
It created a luxurious and sculptural focal point for the bathroom that makes it appealing for buyers. 
You can easily view nature and beautiful scenery while relaxing in the bathing tank with a glass of drink. 
Cons
Garden tub prices are higher than standard ones, which makes them inaccessible for many. 
These need lots of bathroom floor space to set up. 
Extra plumbing work for placement may be required.
It's not ideal for kids to bathe as it is too deep. Moreover, it is not ideal for older people or those with mobility problems. 
It needs a lot of water to fill up, which can increase financial costs. 
Garden vs Standard vs Jacuzzi vs Whirlpool Tubs
Garden tub
As explained in the 'what is a garden tub?' section above, they are ideal for those who want to have a relaxing spa-like feeling. It is an oval-shaped, freestanding and large tank that is wider and deeper than usual types.
Garden tub dimensions are 42 inches wide, 60 inches long, and 24 inches deep. But you can get these ones in different sizes and shapes—at least 70 inches wide and twice as deep as a normal version.
You can find these bathing tanks in different materials like wooden, cast iron, and different stone options like granite and marble. Mostly, garden tub prices can range from $600 (for acrylic) to $5,000 (for a natural material).
These soaking tanks give a luxurious experience for you at home, and it is eye-catchy for most buyers. But it's very costly and requires a lot of space in your bathroom. 
Standard
What is a garden tub in comparison to a standard one? The main differences are related to the size and shower functionalities. 
Standard showers sizes are often 60 inches long by 30-32 inches wide by 14-20 inches in depth. The material is often cast iron, fibreglass, porcelain, acrylic, stone, marble, ceramic, and many more.
In a standard version, you can get an additional shower head attachment. In that way, you do not need extra space for a shower, and you can save up additional costs. You can get a standard one for under $175. 
Your physical size will determine which type to choose. Taller people with larger bodies will prefer deeper ones so they can easily soak their bodies. So, standard bathtubs are not preferable for a bathing experience for taller persons. 
Jacuzzi vs Whirlpool
Jacuzzi is a company that produces hot tubs whereas the whirlpool is the term to refer to any tanks with water jets installed. A Jacuzzi is also known as a jetted tub, and there aren't really any big differences between a Jacuzzi and a whirlpool tub. These two other types are often asked about when discussing what is a garden tub.
The Jacuzzi brothers are the persons behind hydrotherapy bath tanks. Both Jacuzzi and whirlpool bathtubs are well-known to help people to relax their sore muscles and joints. Jacuzzi and whirlpool versions have attractive lighting to make your bathing experience more enjoyable. 
The standard size of a Jacuzzi is about 30 x 60 inches, and the luxurious Jacuzzi types have a size that is about 80 x 60 inches. The whirlpool's usual size is about 48 x 48 inches, and the 72 x 48 is the largest possible size.
The whirlpool ones can cost from 1000$ to 15,000$ depending on their features. On the other hand, a Jacuzzi can cost around $1500 and $17,000. It seems like whirlpool types cost a little less than a Jacuzzi bathtub.
Price and Installation Cost
Pricing queries often follow the question, "What is a garden tub?" Because of its shape and solid structure, a garden tub is often an expensive option for you to add to your home. A standard typical backyard tub price range starts from around $2,000, with no installation expenses factored in. 
It is obvious that the cost can take up to $5,000+ depending on the materials and installation process. That is why it is somewhat out of reach for someone who has a lower budget. 
The installation process can take massive amounts as these bath tanks are big and need additional work for installing, which requires experts' advice. The original cost of installation can be approximately $1,000 to 2,000 in addition to the cost of the tank itself.
Can You Add Jets to A Garden Tub?
Yes, you can. In order to add jets to a garden tub, you have to add additional power lines to power up the jets. 
You can also enjoy a jet bath spa with exciting new LED colour-changing submersible lights! You simply need professional help to do the installation process. 
What Is A Garden Tub Filler Spout?
A garden tub filler spout is used for filling up water in thet tank. With a filler spout, you can easily add warm and cold water together whenever you want. This filler spout typically has knobs or a lever (diverters) to adjust the temperature (hot and cold) and water flow.
Variations
What Is A Garden Tub in An Apartment?
A garden tub in a home is the most pleasant thing you can have to relax whenever you want. It is designed to be placed outdoors or near a glass window where you can enjoy the view of nature during a bath. 
But nowadays, you can easily find a soaking tank in an apartment where you can enjoy your privacy. Also, a bathtub can increase the value of an apartment as it is the most popular style on the market today.  
What Is A Garden Tub in A Hotel?
A garden tub in a hotel is like a luxurious thing you can have to relax your pastime like a royal. You can get a view of soothing scenery, and the bathroom looks clean and fresh. 
If you are a person that needs a relaxing bath after a long day working or travelling abroad, then you can choose a hotel with a tub.  
What Is A Garden Tub in a Bathroom?
In today's modern apartments, people mostly want to have a relaxing space in a bathroom, and a soaking tub has gained popularity. With one in your personal bathroom, you can easily soak and relax your body. 
It takes a lot of space to get one in a bathroom as you may need an individual shower. In high-end homes design, most bathrooms have one that is perfectly suited for self-care obsessed and stay-at-home people.    
What Is A Garden Tub and Shower?
In most modern apartments, a soaking tub is necessary for people to refresh their bodies after a long day of work. It is designed to be a luxurious addition to the bathroom with an individual soaking tank and shower space. 
Most Japanese inspired homes have an attached bathroom that is equipped with both a bath tank and a shower.
How to Convert from Tub to Shower?
When looking up 'What is a garden tub?', many people considering adding showers too. Showers are mostly quicker and more practical options for daily life, so most apartments have a shower in every full bath. 
If you need to update your older house, you may consider a standard shower space. To convert a bathtub to shower space, then follow these two options, 
You can remove the existing bathtub and place a new shower unit. For this, you need help from a professional, and it can take at least one week. If you have plenty of space, you can add a shower door to ensure it does not hit the toilet or sink. 
You can make a combination of shower-tub units if you do not want to replace the bath tank. For that, you will need to open up the bathroom wall and adjust the shower accordingly. You can add a glass door or shower curtain for decorative purposes.