A wabi sabi bedroom is a great place to start if you're seeking more peace in your home's interior design. It is a Japanese philosophy that, when applied to decor, speaks to imperfect beauty, minimalism and embracing nature. Overall, wabi sabi bedroom ideas help to create a serene place in your home to rest and relax. 
A relaxing place to rest helps people stay healthy by getting enough sleep. In addition, having too many items in a room can make tranquillity difficult. Open space is part of what makes having a minimalist wabi sabi bedroom so desirable. 
Unlike some other styles, the Japanese minimalist bedroom design is an aesthetic you can create without the help of an interior designer. So, below are some ideas that will help you achieve a wabi-sabi bedroom in your home from the experts. 
Jump to:
Neutral Color Palette
Leave the bold colours out of the room or, at least, off the walls. A modern wabi sabi bedroom starts with a neutral colour palette. However, this doesn't mean everything has to be shades of beige.
Neutrals come in a variety of colours. While individuals commonly use tans and greys, don't be afraid to branch out. For example, consider light blushes, sagey greens or even steely blues. 
Some wabi sabi bedrooms utilize stone or poured concrete for the walls. Concrete is an amazing look but can be costly and time-consuming. So, if you have the means or are starting fresh building your own home, this is an eye-catching option. Otherwise, opt for a fresh coat of paint in the neutral colour of your choice. 
Neutral doesn't have to mean boring, so pick something that matches your aesthetic and start from there. Incorporate extra neutrals through furniture and decor. 
Create Space
One of the primary tenets of wabi-sabi (侘寂) is simplicity, and the easiest way to start is by removing clutter from your bedroom. Move your collections and trinkets to another room.
A minimalist wabi sabi bedroom starts with eliminating the excess. Besides, all the free space gives your more room for creativity.
Having fewer things in your room means fewer distractions, which means it's easier to relax. So, take anything that isn't needed out of the room. This is the first and also the most crucial step in creating a wabi sabi bedroom. You should make choices based on the practicality of each item. 
Thankfully, it's an easy task to accomplish with a little bit of determination. Even though the Japanese philosophy revolves around minimalism, don't get rid of everything. You might need them for the next idea. 
Personal Items as Art
You try to reduce clutter, but there are some personal items you must-have in your wabi sabi bedroom. While you can relocate some of these items to the bathroom, consider using one or two as a statement piece. 
Statement pieces, after all, work well in bedrooms. You can utilize beauty products, in particular, for this concept. Most luxury products have stunning container designs. A perfume bottle can become an art piece when you use it in the right way. 
Don't feel obligated to buy luxury products if you're not going to use them. For example, a mason jar filled with coconut oil can match the aesthetic just well.
Besides, there are tons of personal items you can use as art. The key is to choose only a couple and make them individual. You'll want to make it your personal wabi sabi bedroom. 
Perfecting the Imperfect: Styling with Broken Things
Have you ever opened something you've gotten in the mail just to find it had broken in transit? Perhaps it was something beautiful you were hoping to place in your home. Well, don't throw it away. Make use of it as a part of your minimalist wabi sabi bedroom.  
Wabi sabi bedroom design embraces imperfection. So, a cracked pot or flawed statue will fit with the aesthetic. While no designer recommends going out of your way to destroy things, broken items that are too precious to throw away may help tie your bedroom together. 
Here are a few items to think about upcycling into decor: 
Chipped heirloom china as art
A ceramic mug with a broken handle to hold items
An incomplete crochet project as a wall hanging
A broken wooden ladder as a statement piece
An old rotary phone as a modern sculpture
An old feng shui dragon statue
There are many options to use this technique to complete your wabi sabi bedroom. 
Stoneware and Ceramics 
Stoneware and ceramic pieces in a wabi sabi bedroom are eye-catching. Handcrafted items are key to the wabi sabi trend and a great way to support your local businesses. Look for craft fairs or pottery galleries near your area. The advantage of an item made by an artisan is that it's unique! 
When searching for the perfect pottery look, pay particular attention to texture. The style embraces natural textures. Glazed pottery has a beautiful finish, but most stoneware and ceramics embodying wabi sabi texture have a more natural look. 
Look for bold, large vases to pull the room together. You're not going to be cluttering up the room with lots of things. So, make sure what you do choose, makes a statement. 
Nature as a Statement Piece 
The beauty of nature is one of the core elements of perfecting the wabi sabi style. Plants help to brighten up a room and even put extra oxygen into the air. So, if you have a green thumb, consider growing a plant! For example, bamboo and Golden Pothos are popular choices, and you can easily find guides for growing it on the internet. 
If caring for a plant seems like too much maintenance, there are other options for a wabi sabi bedroom with natural elements. Dried plants make gorgeous floral bouquets without the need for watering. A smooth river rock placed purposefully on a dresser can tie a room together. An old tree stump can find new life as a seat in your bedroom. 
The possibilities are as endless as the natural world around you. Be inspired by where you live and let it guide your style. 
Items with Longevity
Wabi sabi interior design philosophy acknowledges that nothing lasts forever. The items you curate and display should be built to last. When choosing wabi sabi furniture, look for items that are sturdy and durable. Modern wabi sabi bedrooms utilize furniture with clean, durable lines. Homeowners often utilize dark wood, but don't be afraid to cater to your personal preference. 
Antique furniture is a good choice for a wabi sabi bedroom. Antiques have already stood the test of time, providing proof of the quality of craftsmanship by their continued existence. Pieces like these match the aesthetic as well as the Japanese philosophy. 
There are plenty of contemporary pieces that are built with quality as well. Look for items made of solid wood and not particle board. Stone topped tables and dressers are extremely distinctive and help add to a beautiful wabi sabi interior design aesthetic. 
Natural Textures
Bringing natural textures into your wabi sabi bedroom is easy. If you're unsure where to start, look no further than the floor of your room. When practical, consider minimalist wood flooring or carpeting with a more natural texture.
However, if replacing flooring is too big of a remodel, a rug might be a better option for you. Jute rugs are especially attractive as well as strong and durable. 
Natural textures don't have to stop at the floor. Chunky wool wall hangings are a wabi sabi trend. If wool isn't your style, consider textured metal as wall decor. Incorporating both will give your room a duality of textures and give the room real depth. The options are as endless as you are creative. Don't be afraid to take chances when curating your wabi sabi bedroom.  
Asymmetry
Let's talk about wabi sabi interior design philosophy. Asymmetry isn't a thing you can bring into your house. It's an idea that influences the wabi sabi style. Keep this principle in mind when placing your furniture and decor in your wabi sabi bedroom.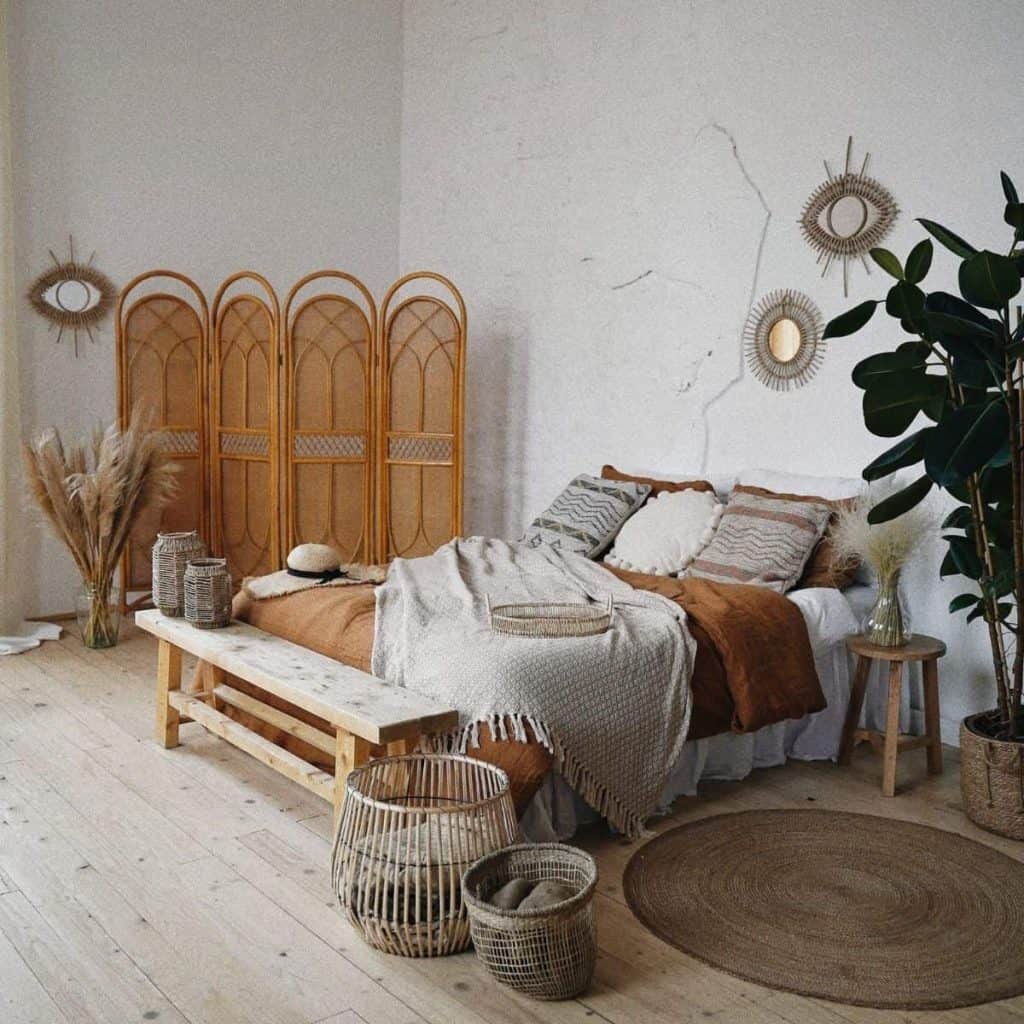 Skip the matching bedside tables, and opt for a lamp on one side instead. Place a single ceramic vase on your dresser and leave the rest of the space clear. You can even use this philosophy when placing pillows on the bed. 
The number of items displayed isn't the only way to incorporate asymmetry. There's plenty of asymmetrical furniture and art that will look great in your wabi sabi bedroom. A quirky piece of asymmetrical furniture is the perfect way to complete a look.
Conclusion
Now you've learned about the Japanese design philosophy and how to incorporate it into interior design. So, you should now have all the inspiration needed to start designing your own bedroom. Bear in mind the core tenets of minimalism, natural beauty and imperfection as you bring everything together. 
There are lots of principles that influence wabi-sabi interior design, but the vital one to remember is to embrace imperfection. With this principle in mind, any bedroom can become the perfect bedroom for you. Don't be scared to take chances and make mistakes. It's all a part of the philosophy. 
---
For more inspiration, check out articles on incorporating japandi bedroom ideas into your home.